Kurulum öncesi yapılması gereken işlemler:
*Sunucu kuracağımız bilgisayarın UAC ayarlarını kapatıyoruz.
*Forcepoint kurulum için Statik bir IP adresini sunucumuza tahsis ediyoruz.
*.Net Framework 2 ve 3 kurulumlarını yapıyoruz.
Antivirüs kullanıyorsak, aşağıdaki klasörlere izin veriyoruz.
*:\Program Files\Websense
*:\Program Files (x86)\Websense
*:\Program files\Microsoft SQL Server\*.*
C:\Documents and Settings\
%WINDIR% \ Temp \*. *
Forcepoint Kurulum
Forcepoint Kurulum dosyamızı çalıştırdıktan sonra aşağıdaki sihirbaz ekranla karşılaşacağız, bu ekrandaki aşamaları takip ederek kurulumu tamamlamış olacağız.
"Start" ile kurulumu başlatıyoruz.
Lisans Anlaşmalarını kabul ederek "Next" ile devam ediyoruz.
Bu kurulumda DLP özelliğini kuracağımız için "ForcePoint DLP" seçerek "Next" ile bir sonraki ekrana geçiyoruz.
Bir Microsoft Azure platformumuz bulunmadığı için "Install ForcePoint Email Azure appliance on-premises management component" işaretlemeden "Next" ile devam ediyoruz.
Kurulacak modül bilgilerinin verildiği ekranda "Next" ile devam ediyoruz.
"Next" ile devam ediyoruz.
Kurulum klasörünü isteğe bağlı olarak değiştirebilirsiniz, biz değiştirmeden devam ediyoruz.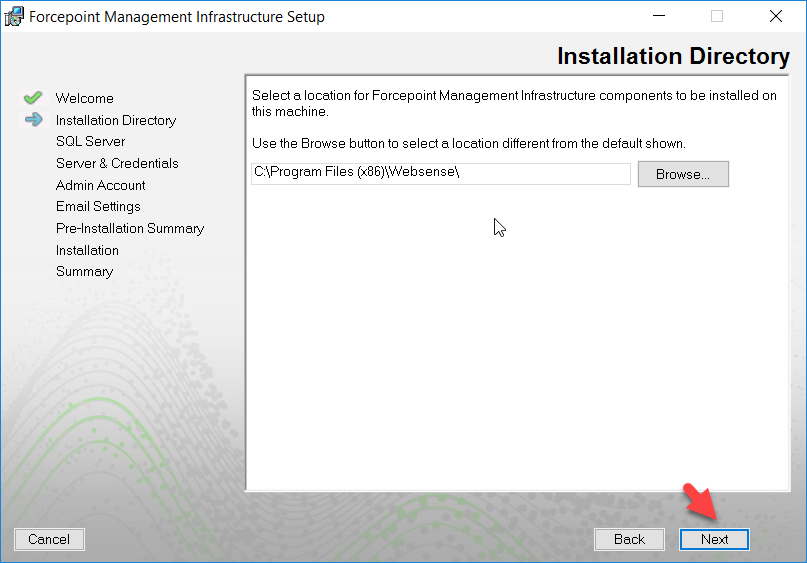 Senaryomuzda kulumum yapacağımız server üzerinde bir Microsoft SQL Server olmadığını için "sa" şifremizi belirleyerek devam ediyoruz,
Mevcut sistemde bir Microsoft SQL var ise "sa" bilgilerini eksiksiz giriyoruz.
Sunucumuzun ip adresini statik ip durumunda olduğunu kontrol ettikten sonra "IP address" seçeneğinden bularak seçim yapıyoruz. (IP Adresimiz statik ip olmalı)
ForcePoint servislerini yönetecek yetkiye sahip kullanıcımızı seçerek şifresini yazdıktan sonra, "Next" ile bir sonraki ekrana geçiyoruz.
ForcePoint konsolunu idare edeceğimiz admin bilgilerini ve şifremizi belirleyerek, "Next" ile devam ediyoruz.
Bu kısımda SMTP ayarlarınızı yaparak ilerleyebilirsiniz, kurulumda bu ayarları atlayabilir ve "ForcePoint Securty Manager Settings> Notification page in the Forcepoint Securtiy Manager" altından tekrar düzenleyebilirsiniz.
Özet bilgilerin verildiği ekranı "Next" ile geçiyoruz.
SQL işlemleri için kurulum devam ediyor.
Devam eden kurulumun bitmesini bekliyoruz.
"Finish" ile ön gereksinimlerin kurulmasını bitiriyoruz.
Şimdi; ForcePoint DLP 8.4.0.200 bileşenlerini yüklemeye başlıyoruz, "Next" ile devam edelim.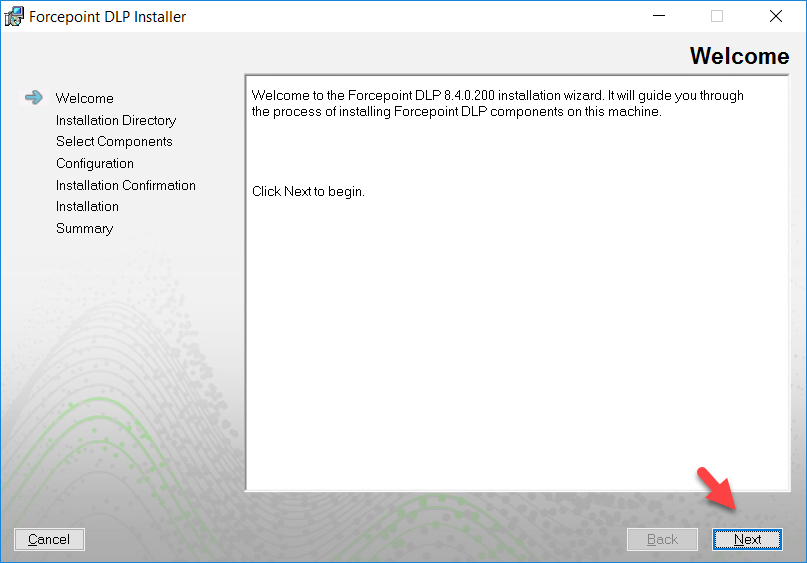 Kurulum klasörünü seçerek yine devam ediyoruz.
Domain admin bilgilerimizi ve şifremizi giriyoruz.
Fingerprinting veri tabanımızın kayıt olacağı klasörü seçerek devam ediyoruz.
"Install" ile DLP kurulumunun başlatıyoruz.
"Yes" seçeneği ile devam ediyoruz.
Kurulum devam ediyor…
"Finish" ile tüm kurulumu bitirmiş oluyoruz.
Daha önceden belirlemiş olduğunuz admin şifresi ile web tabanlı "ForcePoint Security Manager" konsoluna giriş yapabilirsiniz.
Web sunucudan lisans bilgilerinizi girdikten sonra, DLP fonksiyonlarını kullanmaya başlayabilirsiniz.
Agent kurulumu bir başka yazıda anlatılacaktır.